Create unique and memorable exterior applications and artistic spaces with our made-to-order exterior panels and canopies.
Moxie Surfaces Clear-PEP® exterior panels produce are robust, high-quality, and durable, without sacrificing our commitment to aesthetics and design. Available in a variety of colors, shapes, and sizes, the exterior application options are nearly endless.
Clear-PEP® panels are suitable for both vertical and horizontal exterior applications. Clear-PEP® panels are specially designed with UV protection and the durability required to weather the elements.
Our panel collection offers complete customization of colors containing UV inhibitors, graphics, and other customizable features and full fabrication of your project if required. Our translucent panels are designed for many practical exterior uses, including canopies, sunscreens, facade panels and fins, and other specialty applications.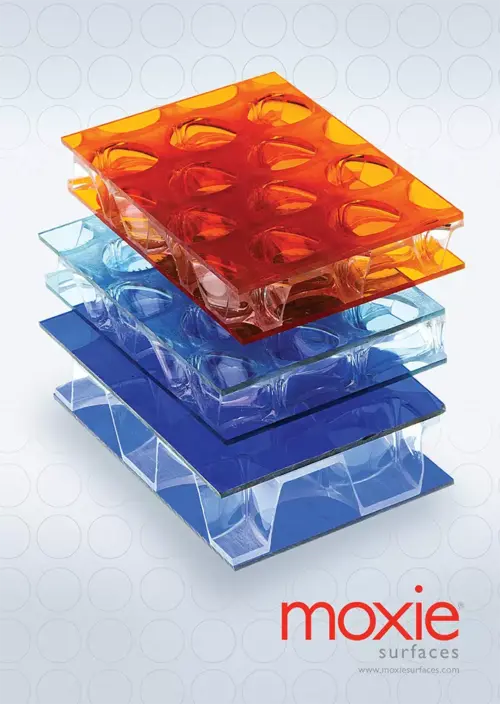 Features and Benefits of

Panels for Exterior Surface Applications
Strong Polycarbonate Core and Facings
Panels created by Moxie Surfaces are made with a thermoplastic polycarbonate core and an optional polycarbonate facing. Polycarbonate is highly durable and robust, with excellent impact properties and high-temperature tolerance. UV inhibitors are added to the resins to make the choice of polycarbonate one of the best choices possible for exterior applications.
UV-Protected Acrylic Facing
Both clear-PEP® and AIR-board® products are available with UV-resistant PMMA / acrylic. PMMA / Acrylic is an excellent choice for vertical applications. Due to its lower impact resistance than polycarbonate, it is only recommended for vertical applications only. Be confident knowing your exterior panels will last for years.
Lightweight & Durable Design
Our exterior panels are extremely lightweight and durable, and thus suitable for most exterior applications. With translucent or transparent colorways and a honeycomb core design that adds extra strength, our exterior facades and canopies have a superior level of impact resistance, flexural strength, and thus longer spans between supports.
Custom Color and Design Options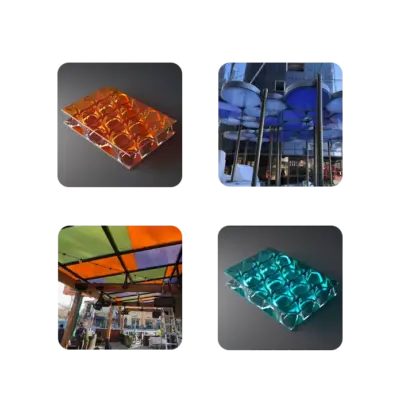 Create a unique and memorable exterior design with our exterior panels that come fully customized with your choice of colors, cell fillings, surfaces, and more. Select a preset color when requesting your quote, or work with the Moxie Surfaces team to create a custom panel.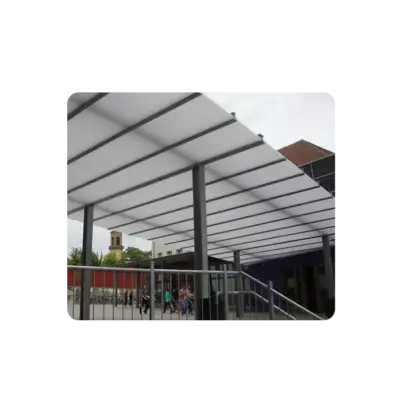 Use Moxie Surfaces' clear-PEP® UV PC Stage panels for all exterior applications. The two-sided grained PC facing sheets give the panel its translucent appearance while providing a textured surface for increased grip. It also adds to the even distribution and diffusion of light.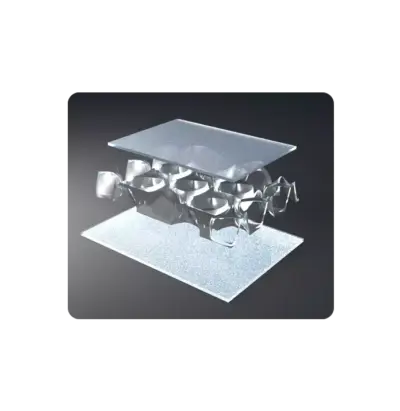 Moxie Surfaces panels are extremely lightweight, making any clear-PEP® panel both easy to install assemble in unique configurations. This design flexibility when combined with the strong translucent polycarbonate core makes Moxie Surfaces panels perfect for exterior design applications.
Multiple Outdoor Applications
Moxie Surfaces' panels are great for sun shades, facades, canopies, outdoor platforms, and more. clear-PEP® panels are fabricated with longevity in mind and will last in any exterior application.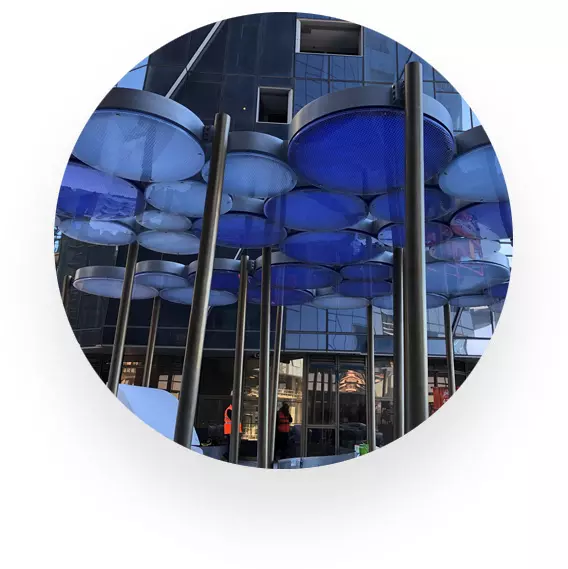 Horizontal. Vertical. The choice is yours.
Exterior panels produced by Moxie Surfaces are robust, high-quality, and durable, excellent for outdoor use. clear-PEP® panels are suitable for both vertical and horizontal exterior applications, whereas AIR-board® is suitable for only interior applications. Our panels are specially designed with UV protection and durability to weather the elements.
clear-PEP UV PC Stage Panels'
Distinctive Honeycomb Design
Moxie Surfaces' clear-PEP® UV PC Stage panels feature a unique honeycomb design unlike any other. With interior design and artistry kept in mind, the honeycomb structure will give your flooring a refined look while maintaining strength.
Exclusive North America Distributor
of Design Composite
Moxie Surfaces is the strategic partner of Austrian-based Design Composite, the manufacturer of high-quality polycarbonate panels. As the exclusive distributor of AIR-board® and clear-PEP®, our team is equipped to help you customize your design solution.
Aesthetic Design
and Functionality Combined
Feel comfortable knowing that the panels you used for your stage, platform, stairs, or other flooring are solid and durable. clear-PEP® UV PC Stage panels from Moxie Surfaces will provide the functionality you need while keeping design style in mind.
Customizable Panel Options Available
The team at Moxie Surfaces is available to help design a custom acoustical panel for your project. Choose a different color, surface, cell filling, or even add curved elements to your flooring panels. Our experts will guide you through the design process and help fabricate the flooring you need.